Irish in Britain's heritage project is capturing the history of its member organisations and the communities they serve, made possible thanks to the National Lottery Heritage Fund.
Irish in Britain is training volunteers from the Irish community in heritage skills so that the community itself can record its own history.
The oral history interviews will feature at a travelling roadshow exhibition in November and as an online exhibition.
---
Aisling Bea, Irish actor, comedian and writer, on the project:
"For all of our shared histories, good and bad, there is no denying the almost cousin-like cultural link between Britain and Ireland.
"I, and so many others, moved permanently to Britain, maybe unknowingly permanently on that first trip. 
"As an Irish person in Britain, you always keep an ear and an eye on home, and an ear and an eye out for the other Irish people who made the jump and are here.
"Not everyone has had it easy, not everyone moved because of hope or a bright future but often out of escape or necessity to survive, not everyone got to walk the streets paved with gold, but their stories are worth telling too.
"Irish people have helped build Britain; its communities, cultures, roads, music, arts, health services, entertainment.
"I am over the moon to know that these stories are getting acknowledged."
---
Irish in Britain's touring exhibition
'50 years of the Irish in Britain, Look Back to Look Forward'
Save the dates!
Entry: free All welcome
Irish Cultural Centre, Hammersmith Ltd
5 Black's Road
Hammersmith
W6 9DT
The Centre is located within a short walk of Hammersmith tube and bus station. Follow signs to the town centre and on to Black's Road.
The Florrie
377 Mill Street
Dingle
Liverpool
L8 4RF
The Florrie is located at the heart of Liverpool 8 just one mile out of Liverpool City Centre.
It is accessible via the 204 and 82 bus routes and Brunswick train station.
Slung Low
The Warehouse in Holbeck,
Crosby Street, Holbeck,
Leeds
LS11 9RQ
Thinktank, Birmingham Science Museum
Millennium Point
Birmingham
B4 7XG
For full details on getting to Thinktank see How to Get Here.
---
Opening hours in all venues
Wednesday 11am-6pm
Thursday 11am-7pm
Friday 11am-6pm
Saturday 11am-6pm
Sunday 11am-5pm
---
Clips from some of our interviews recorded by our volunteer oral historians.
John Giltenan, from the Council of Irish Counties (CICA), London describes the send off his neighbours gave him when he left Limerick 35 years ago.
About the project
By telling the story of 50 Years of the Irish in Britain, this project will help to educate the public in migration and the modern history of Britain and Ireland.
We will document and preserve the life stories of people of Irish heritage in Britain and the valuable contribution they have made through the recording and archiving of oral history interviews. In doing so, we will enable future generations to learn about the experience of the Irish in Britain and the remarkable community work, social engagement and political activism that takes place day in day out.
We want to ensure that the full diversity of the Irish community in Britain is represented in this project. We have been reaching out to underrepresented groups including those of GRT, mixed heritage and LGBTQ+ identities, and those affected by the residential home legacy in Ireland.
Our roadshow exhibition in November 2023 will showcase 50 of the oral histories we capture and ensure that the voices of the Irish community are heard far and wide.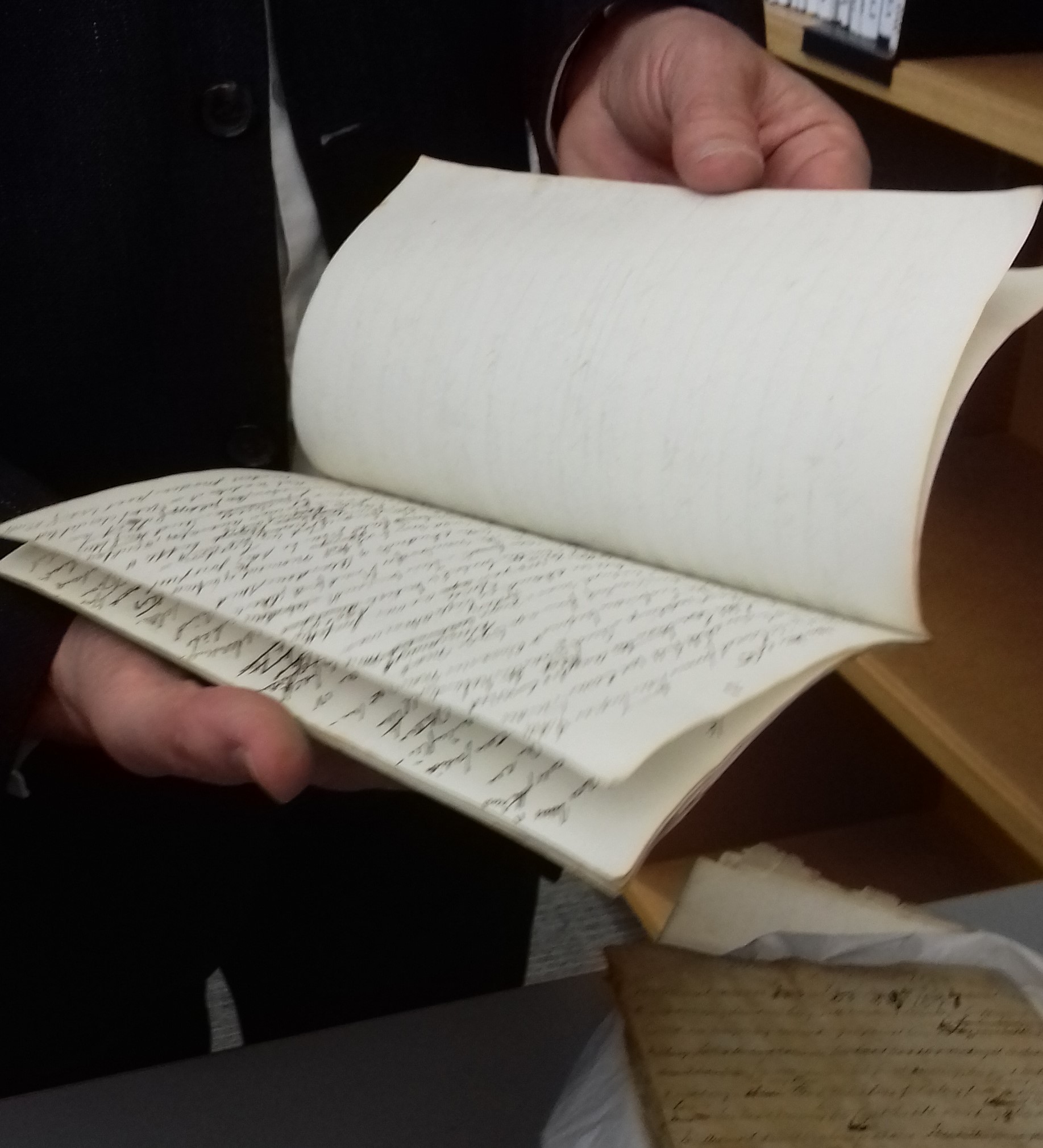 The success of this project is dependent upon the involvement of Irish in Britain's member organisations and our volunteer historians. We will provide training in heritage skills, oral history recording equipment and give logistical support, and work to remove any barriers to participation.
Our volunteer historians will carry out interviews with a range of subjects across the country, recording experiences relating to work and education, community and culture, family and society, politics and religion.
If you have queries or suggestions about the project please email 50years@irishinbritain.org
About Irish in Britain
The history of Irish in Britain – formerly known as the Federation of Irish Societies – provides fascinating insights into political and social developments in Britain and Ireland, Anglo-Irish relations and changing attitudes towards Irish immigrants in Britain.
Upon its inauguration in June 1973, the Federation provided a collective national voice for local Irish clubs and welfare centres at a time when many faced anti-Irish sentiment in Britain. The Federation campaigned on a range of issues including the Prevention of Terrorism Act and internment in Northern Ireland and championed the role of welfare organisations for community development and cohesion.
Amid a new wave of youth emigration in the 1980s, the Federation represented community interests to both Irish and British governments on behalf of Irish youth in Britain, many of whom faced housing shortages, social security issues and poor employment opportunities.
In recent decades, as the demographics of the Irish diaspora evolved, the organisation has campaigned on issues pertaining to health, ethnic representation, and discrimination, whilst continuing its political policy work and community engagement.
As a national umbrella organisation, Irish in Britain's members include Irish centres and social clubs, welfare support groups, Traveller organisations, GAA clubs, language and heritage groups, LGBTQ+ rights groups amongst many others.
It is an example of the use of collective organising to give a greater voice to marginalised communities.
This project aims to tell the history of Irish in Britain, its member organisations, and the contribution they have made in areas of social and welfare support, music, arts and culture, politics and representation. In doing so, it will provide education and broaden understanding about Irish-led organisations, the Irish experience in Britain and migration more broadly.
Why oral history?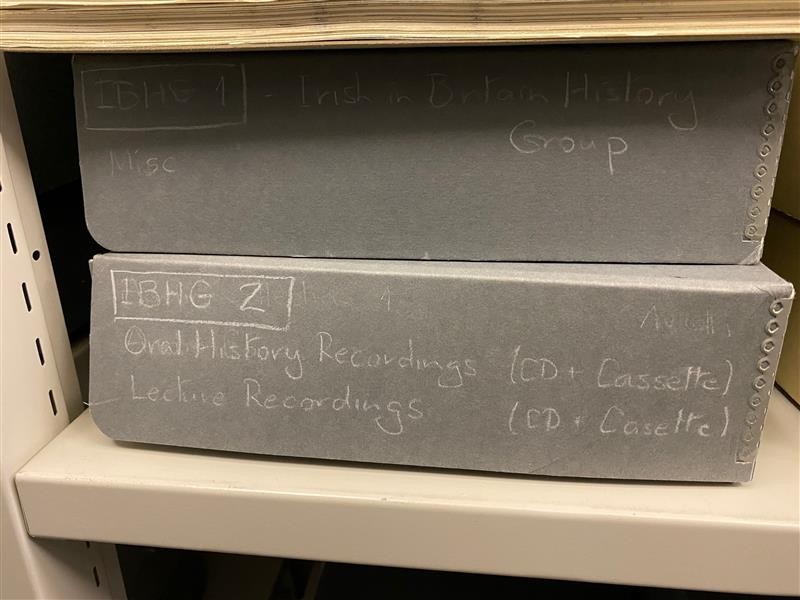 Oral history gives visibility to people often overlooked by traditional accounts of the past. In academic work on migration, demographic data can obscure the nuances of individuals' life stories.
Oral history can help too in going beyond "what happened" to understand people's feelings, thoughts and attitudes. This is particularly pertinent to issues of migration and identity, and understanding how people responded to major events, political shifts and personal experiences during such a fast-changing environment.
The role of oral history, according to Italian oral historian Alessandro Portelli, is "precisely to connect life to times, uniqueness to representativeness".[1]
Oral history also provides opportunities for people not otherwise involved in the heritage sector or historical research to gain relevant skills and participate in the collection of historical artefacts.
Thanks to the National Lottery Heritage Fund, we are able to offer Oral History Society training to our volunteers, providing professional development as well as encouraging wider community engagement.
This means that the history of the Irish community in Britain, particularly the most marginalised members of that community, can be written by those who made it.
---
[1] Alessandro Portelli, The Battle of Valle Giulia: Oral History and the Art of Dialogue (London: University of Wisconsin Press, 1997), p. 6.
---
Blogs
A history of intrepid organising by the Portsmouth Irish
Irish Women in Britain: a dip in the archives
Bridging identities: LGBT History and the Irish in Britain
---