Bridging identities: LGBT History and the Irish in Britain
Rosa Gilbert, the researcher on Irish in Britain's 50th anniversary heritage project writes: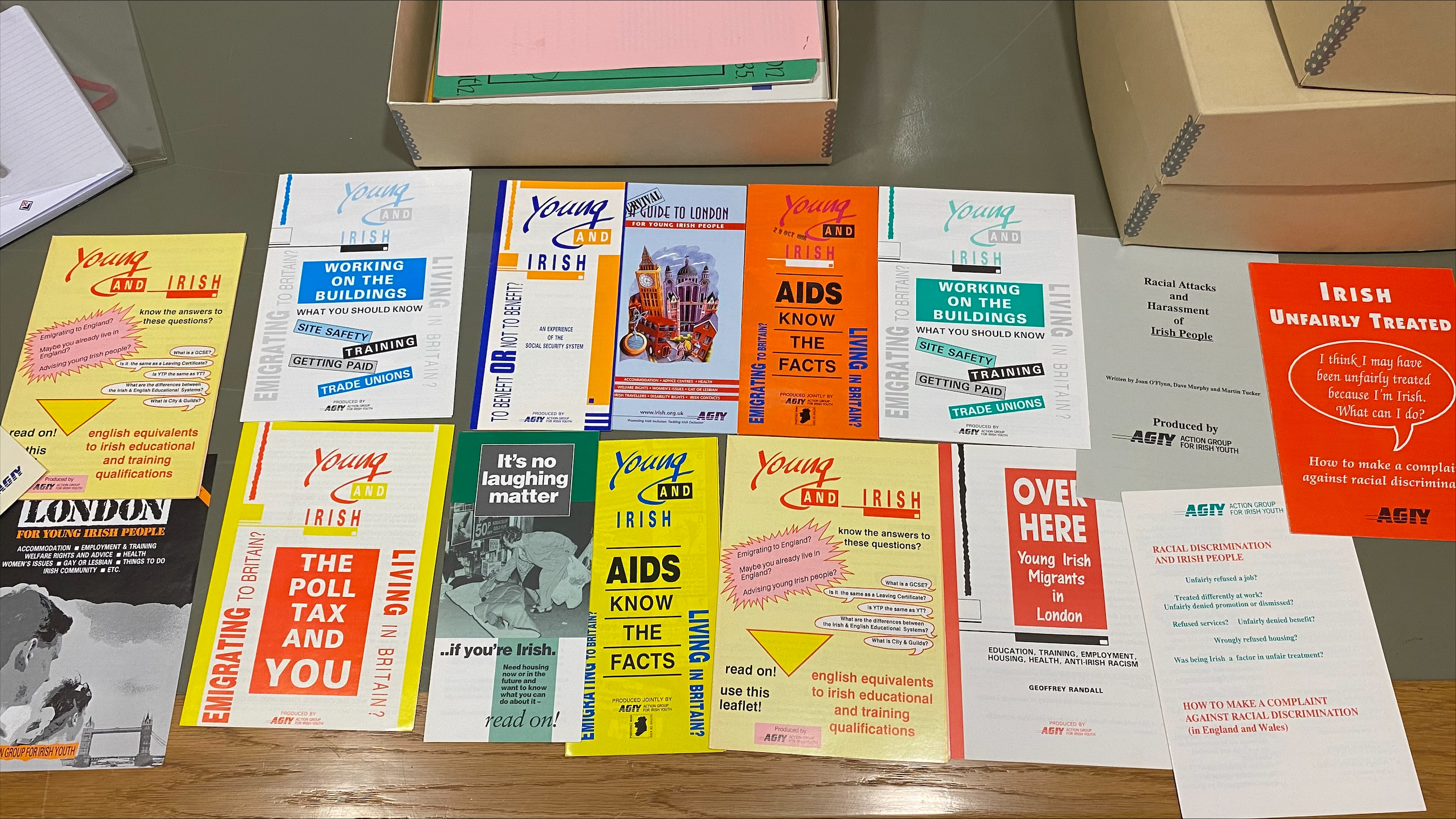 For LGBTQ+ history month, I've been looking at archival material at the Archive of the Irish in Britain relating to groups that supported and represented Irish lesbians and gay men in 1980s and 1990s Britain.
The 1980s saw a huge wave of Irish emigration to Britain in the midst of economic depression. Britain's employment and housing situation as well as the Prevention of Terrorism Act made life particularly difficult for Irish immigrants.
In the 1980s, during the period of the AIDS epidemic, Ireland experienced a 'gay emigration'.[1] Two colonial-era laws dating to 1861 and 1865 criminalised sodomy and physical intimacy between two men in the Republic of Ireland. The wide parameters of the laws made them difficult to enforce. However, they still provided a 'backdrop of oppression' whereby many lesbians and gay men faced workplace exclusion and social hostility.[2]
In the North, male homosexuality had been partially decriminalised in 1982, in spite of the DUP's 'Save Ulster from Sodomy' campaign.[3]
It wasn't just legal repression, cultural conservatism and discrimination that prompted young lesbians and gay men to leave Ireland.
Though gay rights organisations had been active north and south of the border since the early 1970s, the Irish gay scene was viewed by some emigrants as somewhat unenticing:
'In 1978, the Dublin gay scene was tiny, one night 'out' a week, three flights upstairs in a fairly seedy pub, and you had to ring the bell to be vetted at the door… I can remember the panic leaving by the side-door hoping you wouldn't bump into anyone you knew. That's why I came to London.'[4]
It was in this context that Action Group for Irish Youth (AGIY) was founded in 1985. They produced material helping new arrivals acclimatise to life in London, providing advice and directions for support on matters ranging from abortion to social security, aiming support at 'smalltown boys and girls'.
To counter the risk of HIV to young emigrants, AGIY worked closely with Positive Irish Action on Aids (PIAA) who provided AIDS awareness, advice and counselling, and the two organisations produced a leaflet 'AIDS: Know the Facts' in October 1990. This caused a stir back in Ireland.
A front page of the Irish in Britain News the next month quoted Galway councillor Joe Brennan who condemned the leaflet as 'pornographic' and 'filth'.
Irish lesbian network
In 1988, the Irish Lesbian Network was established by Irish lesbians in Britain, organising cultural events, discos and ceilis, counselling workshops and attending demonstrations against Section 28. One of the founders of the Irish Lesbian Network was Siubhan McNally from Belfast – Siubhan sat on the PIAA management committee and had also been active in women's liberation and republican prisoner support groups.
Cairde, an Irish lesbian social and discussion group based at London Friend, met twice monthly, and the London Irish Women's Centre had a lesbian group from 1986 as well as a lesbian telephone helpline.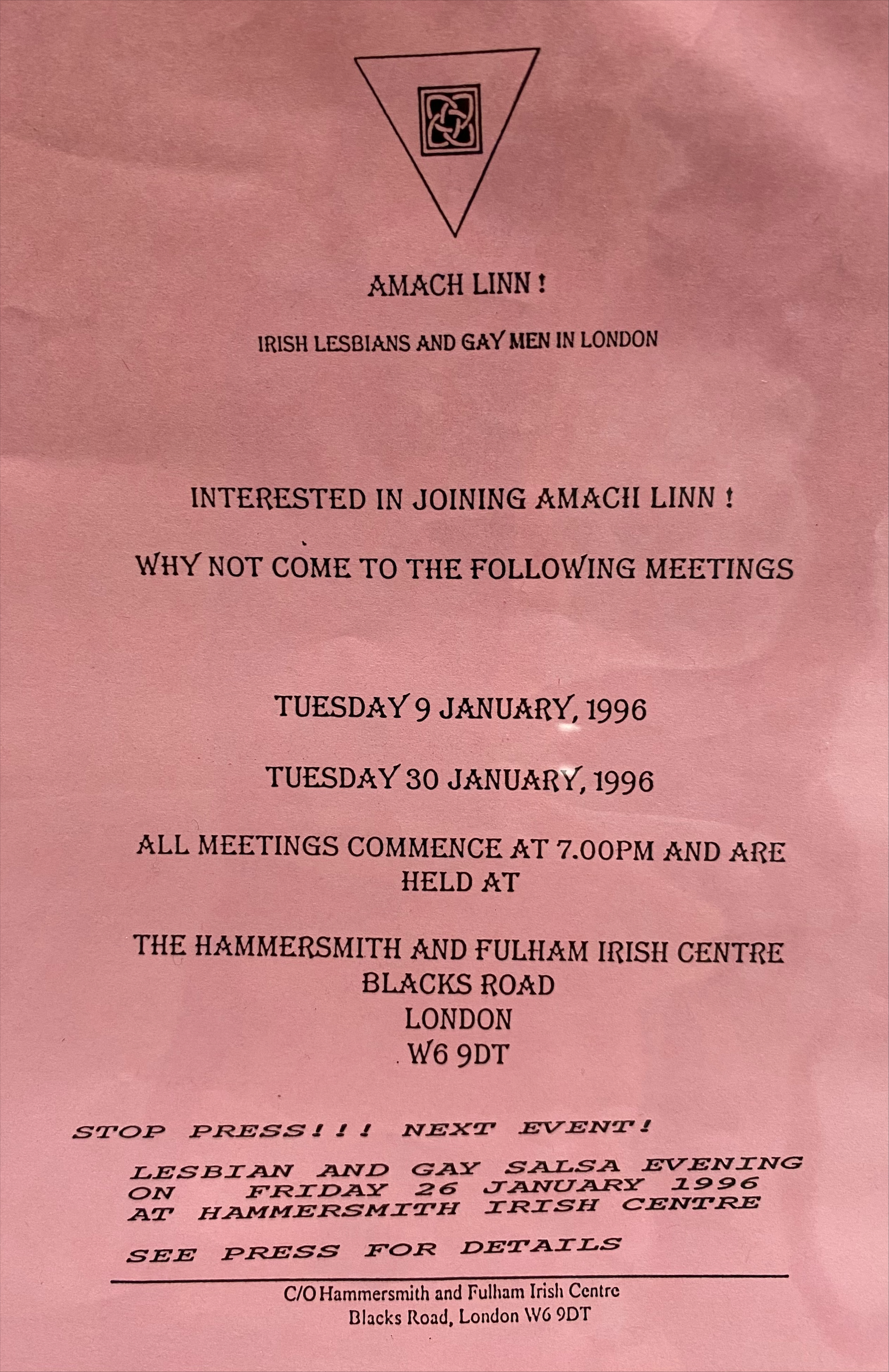 In 1995, following the first Irish Lesbian and Gay Conference in London, a London-based Irish lesbian and gay group launched. It took the name Amach Linn! (Out with Us!) and aimed to co-ordinate campaigning on issues affecting Irish lesbians and gay men and provide a social space. It also brought together men and women, reflecting cultural shifts following Ireland's decriminalisation of male homosexuality.
Discrimination
It is worth reflecting on why Irish-specific gay and lesbian groups formed in 1980s and 1990s Britain. They clearly responded to homophobia, but also to anti-Irish discrimination, including within the LGBT community.[5]
When the male-oriented Irish Gay Helpline launched in December 1991, with PIAA support, it explained that gays and lesbians may not feel able to access resources in the Irish community 'for fear [of] disclosure of their sexuality'.
Amongst the mainstream lesbian and gay community they may have encountered anti-Irish prejudice: 'Many feel pressurised to choose between their identity as an Irish person or their identity as a lesbian or gay man.'
---
The archival material relating to these groups shines a glimmer of light onto the stories of these groups and activist networks. We want to find out more – were you involved with Irish LGBTQ+ organisations in Britain over the last 50 years?
Tell us about it, or volunteer on our 50th anniversary heritage project: 50years@irishinbritain.org
---
Photos: Archive of the Irish in Britain at London Metropolitan University's Special Collections
[1] Maurice Casey, Radical politics and gay activism in the Republic of Ireland, 1974-1990, Irish Studies Review (26:2, 2018), p. 230.
[2] Dublin Lesbian and Gay Men's Collectives, Out for Ourselves, 1986, p. 190.
[3] 'Sectarianism and Queer Lives in Northern Ireland since the 1970s', in Locating Queer Histories: Places and Traces across the UK, Justin Bengry, Matt Cook and Alison Oram (eds.), p. 56.
[4] Out for Ourselves, p. 88.
[5] Out for Ourselves p. 87