Could your venue help make COVID-19 vaccinations accessible to your local community?
To promote vaccine uptake among the Irish population in Britain, we want our member organisations to talk to us about potentially hosting a pop-up vaccination centre.
(Photo above shows MP, Ian Byrne getting vaccinated at the Irish Community Care Health Event run in partnership with Slainte Le Chéile, Liverpool Irish Centre and Central Liverpool Primary Care Network in January 2022).
Vaccination is the best way to protect yourself and your loved ones from being hospitalised with COVID-19. 
Can your organisation help to increase the vaccine uptake among the Irish Community?
Can you offer:
a safe accessible, well-ventilated indoor space for vaccinating people 

at least c350sqm of space is needed with accessible staff and public facilities 

parking onsite or close by for the staff running the clinic 

a safe accessible place where people can queue for their vaccination outside 

a separate entrance and exit point, so people can move through the venue whilst socially distancing 

exclusive use of your venue on the agreed date(s) and time(s) 

access to Wi-Fi to enable staff to use their IT systems 
Your local NHS team will:
assess venues on their ability to provide an area for:

arrival and check-in, clinical assessment, delivery of vaccination 

reimburse associated costs so you are not out of pocket by helping the NHS
Irish in Britain will:
Advertise the event through our digital channels and profile the service for a newstory

Support on the day with our Health and Wellbeing Officer and provide promotion materials

Provide small community grant to support administration costs for the event
For more information and or queries on setting up a pop-up vaccine centre, please contact Ellen at health@irishinbritain.org We are happy to help.
Vaccine Le Chéile Resources and Merchandise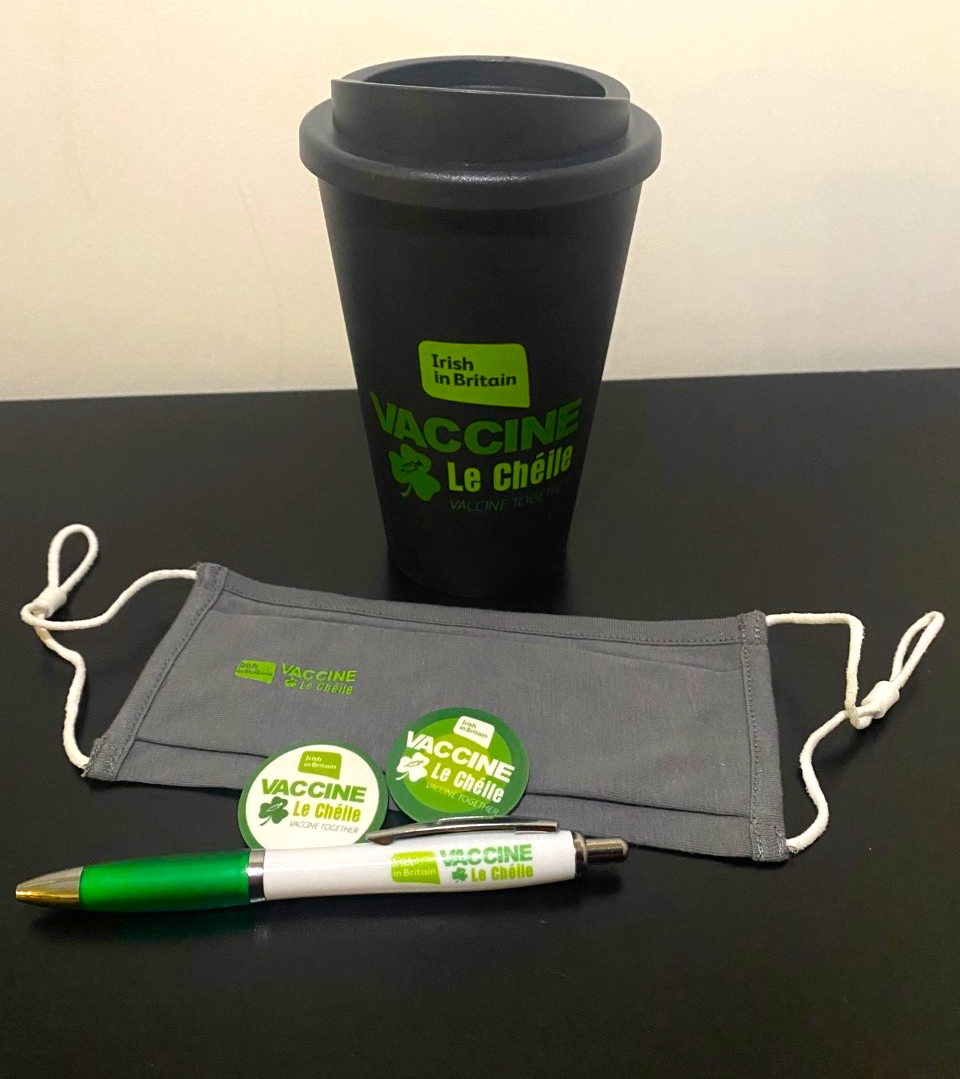 We have a limited stock of free Vaccine Le Chéile merch available! 
If you would like to request some free Vaccine Le Chéile resources, which includes a campaign poster and information leaflets, we will also include some of the merchandise.